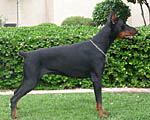 X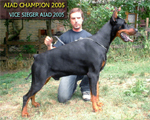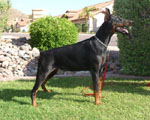 X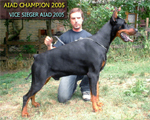 PUPPIES FOR CHRISTMAS 2012 (for details call 602-541-3418)
European Legacy Kennel
European Legacy Kennel has a single mission in mind, to reintroduce the reigning class of European working Doberman to both the Western US and America as a whole.

We devoted many hours of research and study both from the internet and many volumes of Russian and American publications on the Doberman. The fact that we speak fluent Russian as well as English and some German aided us greatly in this research. The online availability to trace bloodlines as well as to view generation upon generation of linage through photos has enabled us to reduce what would once have taken decades of travel, research and connections to be accomplished in a matter of months. We were very careful and calculated about choosing our breeding stock. European Legacy Dobermans should be well-muscled dogs with good limb-angulations, larger bone-structure, deep and wide chest and beautifully shaped heads. These dogs were chosen from vigorously health tested parents with excellent test results and pedigrees that had shown to be genetically superior in longevity and health. We were searching for Dobermans genetically predisposed as Schutzhund and protection prospects, driven, confident, stable and loyal.

We brought our first Doberman from Russia in 1997 and enjoyed many years of loyal companionship until he was lost to cancer. Vike gave us the opportunity to further our training skills and confirmed our love and respect for the European Doberman.

Finally after a 6 month of research 2 puppies were chosen from European multi- international champions of show, conformation, and working titled bloodlines.

Our female, Feliss Moravia Heart, is from combination of
Latino Lorenco v.Cobra

Polish Ch., Euro Trophy V,3x CWC, 2 x BOS, BOB, res CASIB, SG1


HD-A, PHTVL/PHTV-Katarakt-PRA-free, Cardio-free Dilute-free, vWD-free, BH, ZTP V1b

Chakori Moravia Heart

2 X Ex1 CWC, res. CACIB, BOS, 2x BOB, 3 x Ex1 CAC, CAJC , SG1


vWD clear , HD – A, ED – A, PHTVL/PHPV/katarakt - clear, PRA/CEAVER - clear, cardio - clear
Feliss shows excellent pray drive, great alertness, she is protective, playful and very intelligent. She is a pleasure to train and will surely make a great protection dog as well as an excellent show dog. Laila

Soon after we purchase Feliss we bought another puppy Laila from Poland. Her Sire, LEO v. Markischen Land (HD-A VPG 2 (88,88,96), VPG 3 (90,90,100), IPO 3, AD, ZTP V1Bv, WD - clear, PHTVL/PHPV - clear, Katarakt - clear, PRA/CEAVER - clear) , is a dog that has completed IPO3 level of training (Schutzhund 3).

Gemma

26.5" tall and usually around 94 lbs... International Champion/ National Champion UKC & IABCA VWD clear Ultra Sound, Doppler, EKG Cardio Clear Thyroid Normal .
TERALINE MIDGARD
IDC vice-JUGENDSIEGER-2009,vice-WJW, J.CH.RUS-UKR-MOSCOW-CLUB, YOUNG CLUB WINNER, CH.RUS-UKR-LV-RKF, 6xCACIB

SERGIUS-ALEKSANDRIA MAGIA MANON
EUROWINNER 2007, INT CH, CH JRUS-CLUB, CH RUS-CRO-BEL-UKR-EST-CLUB-St.Peterburg, GRAND CH.RUS-BEL,3xCACIB, 3xR.CACIB,BIS
We have brought the Best that Europe has to offer, hoping to allow others to one day enjoy this magnificent breed to the fullest. We would like to give you the opportunity to rediscover the True Doberman, the embodiment of Nobility, Strength and Beauty.
If you are interested in a quality doberman, call 602-728-0555.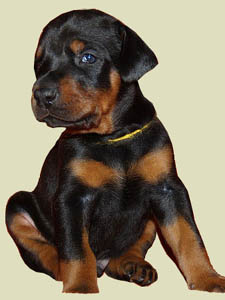 Choosing a Doberman Puppy
Obviously since you are reading this website, you have decided on the Doberman Pinscher breed. Excellent choice! Now all that remains is to choose a Doberman puppy.

It is never wise to just rush out and buy the first cute Doberman puppy that catches your eye. Whether you wish for a dog to show, to compete in obedience or agility, or just a family dog, you need to invest some time investigating your puppy's background and early care, as it will determine the dog's future health and temperament. This time and investigation into the Doberman Pinscher background will save you hundreds and thousand of dollars in future vet's bills and will insure you that your dog is free from nervousness and fear-biting that may occur in some representatives of this breed due to unscrupulous breeding.
If you are not interested in dog show competition, then you can purchase a puppy from parents with a medium conformation rating, a somewhat less than world class pedigree and show awards. This Doberman puppy will become your companion dog giving you many years of great moments and will be loving, devoted pet to you and your family. A Doberman puppy of this type will cost 2 or 3 times less than their counterparts from the well-praised bloodlines. However do not base your choice solely on the price alone. There is an enormous amount of truth in the statement that "great bargain" puppies seldom prove to be either great or bargains. The problems associated with a poorly-bred Doberman dog and the vet's bills that will add up to many times the initial cost of a properly bread dog. On the other hand just because the puppy is expensive, does not mean that it is healthy and well-reared. There are numerous cases of poor-health Doberman puppies from "puppy-mill" dealers who were such poor specimens, hardly resembling the breed, that were sold for a great deal of money.

Choosing Parents:

When choosing a Doberman puppy, it is absolutely essential for you to make sure that parents of the litter have a steady temperament, good health and possess all the qualities that are intrinsic to the breed. Stay away from shy and vicious dogs. These are disqualifying qualities in both American and European Dobermans. The best thing if the Doberman breeder provides you with information that the ancestors of the dogs passed the ZTP test, HP-test, PHPV-PHTVL. In this case there is less risk for your puppy to develop such dangerous diseases like Hip joint dysplasia, cervical spondylopathy, eye-disease and psyche-abnormalities. p>

European vs. American Dobermans

Study the differences between the American and European linage, make sure that you read the section on America vs. Europe, consider the health and temperament issues as well as the general appearance and working qualities of these two linage. Use all this information as your guide to be able to make an intelligent selection of the best parents for your future Doberman puppy. When choosing a Doberman puppy please pay close attention to both the sire and the dam, as they equally contribute to the genotype of your pup. The saying that the dog inherits the look of the sire and the temperament of a dam, has no base in reality whatsoever. From the genetic point of view approximately 60 present of the genotype comes from parent and 40 percent from the other generation of ancestors.

Choosing a Doberman Puppy:

A good Doberman puppy should have dark eyes, square body, a reasonably long neck, good bone structure, a wide back, a head with wide jaws and well a developed chin, the lines of the head and the muzzle should be parallel, the elbows aligned with the rest of the body, a wide chest.

Disqualifications: white spots, light eyes, crooked limbs, not allowed colors. See if the puppy has a hernia. A Hernia is not a disqualifying factor, but its presence is not desirable. If the puppy has a hernia, after the puppy turns 5 months of age, it should be operated upon.

Of course, at the age of 8-12 weeks, when the puppies are usually taken to their new homes, it is difficult to judge the movements, nevertheless, observe his movements when he is trotting. If he throws his front legs far, and gives a strong push with his hind legs, then there is a good chance of a correct morphological structure.

Marking should be small, well defined, and of a correct shape, desirably bright brick-color, as it is an indication of a good immune system.

A healthy Doberman puppy has a good appetite, bright eyes with close lying eyelids, shiny hair, pink mouth cavity, medium sized belly (blown belly paired with dull hair may indicate the presence of belly-worms). The puppy should be well-fed (not too thin and not too fat), active and joyful. The docked tail should not have an open wound.

The puppy should have a correct bite. The number of teeth should be appropriate for his age. The male pups as a rule should be bigger than females.

Useful Information about Raising a Doberman

Articles for Doberman owners.

All you need to know about owning a doberman.

Here we will try to educate the novice Doberman owners about ear taping methods, feeding, puppy training, house training, Doberman health issues, cardio, DCM, Wobbler, vWD, etc.

Puppy obedience aptitude test. Testing your puppy's temperament

How to tape (post) doberman ears

Doberman Health issues in America and Europe.

Choosing the right temperament

American vs. European dobermans

European Legacy kennel is located in Phoenix, AZ, USA
ph. 602-7280555, 602-5413418
email: ron@wwdl.net